Internet Marketing School Institute Reviews, Course Duration, Fees & Details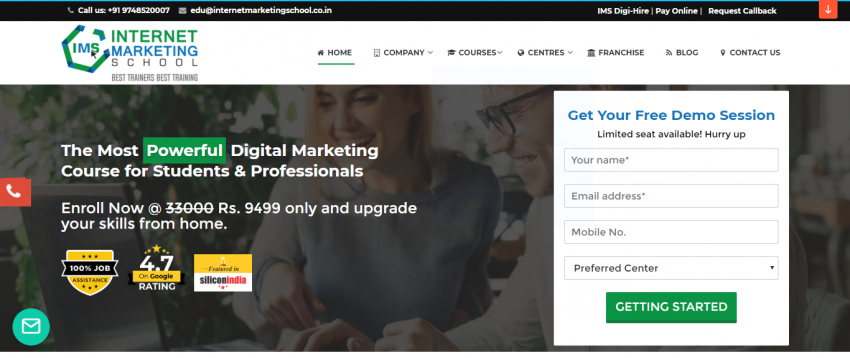 Internet Marketing School is a well-known name in the digital education industry that is famous for delivery the most advanced and comprehensive digital marketing training to students. We endeavour to improve talents our trainees as per the latest industry trends that is both volatile and competitive. We have noticed and understood the huge gap between the market demand and skills of the people, this is why, we have come up with this job-oriented digital marketing training. Since inception, Internet Marketing School has trained 437 batches and 4600 students.
At IMS, the trainers majorly focus on practical exposure and real-time experience. Without hands-on practical experience, no one can master this skill. Our unique training methodology this based on both theory and practical sessions helps our trainees to get a clear understanding of the core digital marketing concepts covering SEO, SMM, PPC, Content Marketing, Email Marketing, and more.
---
| Particulars | Details | Course Content |
| --- | --- | --- |
| Name | internetmarketingschool | Digital Marketing Overview |
| Course | DM | Wordpress |
| Type | Classroom, Online | SEO |
| Module | 12 | PPC |
| Fees | 33000 | Social Media |
| Rating | 4.7/5 | Email Marketing |
| Duration | 3 months | Content Marketing |
| Internship | No | Affiliate Marketing |
| Placement | 100% Assistance | E-commerce Marketing |
| Tel | 9773-713-006 | Lead Genration |
| URL | https://www.internetmarketingschool.co.in/ | Online Reputation Management |
| Address | Malviya nagar / nirman vihar / lucknow / Kolkata / bhubaneswar / siliguri / raipur | Google Analytics |
| Trainers Exp | 7 Years | Blogging |
| Batches | Weekday,Weekend, Sunday | Mobile Marketing |