National School of Internet Marketing (nsim) Institute Reviews, Course Duration, Fees & Details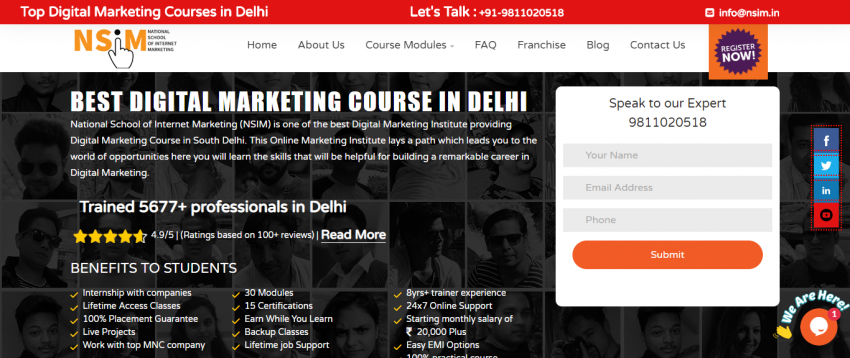 NSIM or National School of Internet Marketing is a top-class online marketing institute that is known to provide an ultimate Digital Marketing training in South Delhi. We mark a route which takes you to the place of opportunities for building an extraordinary career. From the first day in this industry, we are committed to give a strong push to your career with our digital marketing course. We are proud to be the educators of more than 5670 students who are now turned into successful digital marketing professionals. We have accentuated our training programs with exclusive USPs like 100% practical training, 100% placement guarantee, and internship in reputed companies.
We know the importance of certification that is required by most of the companies before any digital marketer. Therefore, we will provide you with 15 certifications that will reflect your skills in different domains like Google analytics, SEO, Google Ads, etc. At our institute, we ensure incomparable professional digital marketing course with the advanced methodologies and tools.
---
| Particulars | Details | Course Content |
| --- | --- | --- |
| Name | nsim | Digital Marketing Overview |
| Course | DM | Wordpress |
| Type | Classroom | SEO |
| Module | 30 | PPC |
| Fees | 25000 + Gst | Social Media |
| Rating | 4.9/5 | Email Marketing |
| Duration | 4 months | Content Marketing |
| Internship | Yes | Affiliate Marketing |
| Placement | 100% Assistance | E-commerce Marketing |
| Tel | 9811020518 | Lead Genration |
| URL | https://www.nsim.in/ | Online Reputation Management |
| Address | South Extension, Delhi | Google Analytics |
| Trainers Exp | 8 Years | Blogging |
| Batches | Weekday,Weekend, Sunday | Mobile Marketing |