Guest Posting Sites List 2020
If you want to spread brand awareness and gain the trust of lots of people, come within reach of some great benefits of guest posting. This is effective for you and your organization. It is one of the best ways of building relationships, professional connections and setting brand importance.
No doubt, writing is a passion for scores of people. While time has passed and blog posts have got popularity, business enterprises take this as an opportunity to write on different topics related to their industry to cater to the needs of the audience.
Guest blog posting is simply writing blogs and articles for other sites. There are several websites that need content relevant to their sites. Free guest posting sites allow backlinks in the bio of the author to make sure the blogger can take advantage of the traffic that the blog posting site entices.
OFF Page SEO Intro | How to CREATE BACKLINKS (Powerful) In 2020 – Learn Advanced OFF-PAGE SEO
---
Benefits of Guest Blogging On Free Guest Post Sites:
---
Increases organic traffic : Many take benefits of the guest posting sites for SEO purposes. The more backlinks you have, the better your web pages perform. Each link helps in growing organic traffic. This is something as simple as post driving sales if you do the right way.
Boosts social media following : Guest blogging makes it easy to win your target audience. It not only drives shares but increases your follower count. So, share information that matches their expectations.
Branding : A great way of making your presence felt online, guest posting will make sure your ideas and interests are conveyed to the readers. If you have unique ideas, interesting topics, then nobody can stop you to deliver the information you want to offer.
Improves writing knowledge : Nobody is perfect at writing. Your patience and practice make you an experienced person. Write a blog post on topics that interest you and soon you will see yourself on a large scale. If your post gets rejected, don't give up. Try editing and submitting the post according to the guidelines of the editor, this way you can improve your writing.
Build authority : To make a website popular and relevant, quality is the utmost one should keep in mind. Your posts should be well written and informative. The search bots like sites that have informative information to proffer. With free guest posting sites, you can easily get associated with top bloggers in your domain.
Keep these tips in mind and take steps that would lead to productivity growth & you can growth you productivity through free guest posting sites. Don't forget, guest posting is the main step for online marketing success . And don't rush into something without giving a deep thought.
What are Natural Links? | How To CREATE NATURAL LINKS (Powerful) in 2020-21 | The Expert Guide
---
Top High-Quality DoFollow Free Guest Posting Sites List
Expert Training Institute: expert-seo-training-institute.in/blog | Submit Guest post
ShoutMeLoud: ShoutMeLoud.com | Submit Guest Post
Content Marketing Institue: Submission guidelines
HubSpot: Submission guidelines
Outbrain: Submission guidelines
Copyblogger.com: Submit Guest Post
Smashing Magazine: Guest post guidelines
Inc42: Contact for guest post
YourStory: Submit guest post
Daily Blog Tips: Daily Blog Tips | Submit Guest Post
The Huffington Post: Submission Guidelines
The Sits girls: How to submit
HellBound Bloggers: Write for us
What Is Guest Blogging and How to Submit a Guest Post in SEO? [Hindi]
---
GENERAL GUEST BLOG POSTING PROCESS
First, You have to search for blogs as per your Category or niche. There are hundreds and thousands of blog sites but only need those who accept other people's piece of writing because some sites prefer to publish their own. So, you need to search for sites who are ready to accept otherwise what's the point of wasting the time and effort.
Secondly, you need to figure out blog sites which have Good Domain Authority & Relevance
Thirdly, you will check whether the page has ads or not, if it has and above the fold, that too more than two, you need to leave that site because of the site owner's intent of not producing content for the audience but instead to make money through ads. Check this on Blog Post Page Like This

In the fourth step, one needs to check whether the search engines are indexing that particular site well or not. This can be checked by copying the recent published article's title or URL as it is unique and search on google or any other search engine if it comes on top that means it is indexed and if not that means it is not yet indexed. If any of the search engines is not showing the article then you should go for another older article that's published on the same site and continue the same step (another older article) and till the time you found you be able to find when and which article google or any search engine crawled or indexed last. That will give an idea of how frequent any search engine visits that site.
After following these four steps, you have to check, how many words that blog site is asking for and for that you need to check submission guidelines for exact or minimum word count
Then, you must know that while creating backlinks, creating anchor vs text links, which are better and has more seo value, answer is Anchor or keyword backlinks but if you give exact keyword which does not make any sense in making it relevant and natural, it would be a waste n unnatural made it worthless with regard to seo value.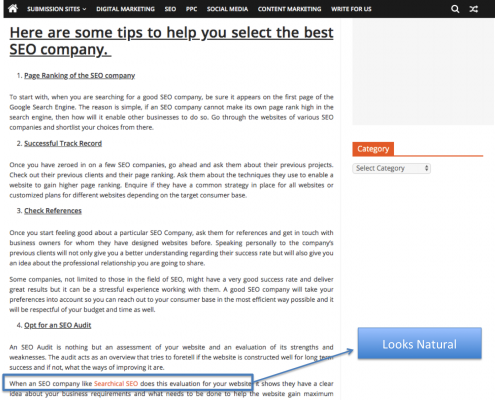 How many backlinks we can make or create in a single blog post, the answer is one for each site and again depends on its naturalness and relevancy. If you create more than one, it can give a sense of paid or reciprocal link which is a black hat practice in SEO.
Next Step is to check, Position of Links in the blog post, there are in total 3 positions where we can possibly build links, first in the BODY of the article, Second in the Author Bio and last in the Blog Comments. The best one to have in is BODY (looks natural in case you don't use the exact keyword in it)-it makes search engines think that link is a referral link and maybe it is given by the site owner, then Author Bio, where clearly search engines can detect that the link is given by the post author and the last one is in the comments section of the post but that should also need to be natural otherwise the site owner will not accept as search engines can assume it to be against the guidelines and penalise it.
Guest Posting is an activity of building links but it will benefit the most when you get the DoFollow Link, which passes the link juice from the site you are building links on. If you get a no-follow link, it will not benefit as much as a do-follow link as it does not have any link juice associated with it, only benefit which someone gets is that it will only give you traffic.
One thing more some sites want a link builder to check before contacting the blogging site, its TONE. The tone is basically the way it should be written, some say it should be friendly and casual while other says it should be the first person as in, it should speak your own experience as an individual or group. It can also be in the second or third person.
Finally, before contacting there are some more points which one should know like:
* Send Us Your Article's Titles or Pitch or Full Article with this [SPECIFIC SUBJECT], in order us to consider.
* Word Limit Matters but submitted info should not be incomplete
* Only Accept Fresh Articles, means you have to check using their search bars that the article which you are going to send them are already there on their website or not, if it is not there then only it will be useful otherwise again wastage of time
* If we can not reply you within 15 days, please don't send any reminder and assume that we have rejected your article and you can post the same somewhere else.
* They May ask You with Existing Blog Post's Links to check for your Quality
* Blogger Review the Article before Publishing – If they find any Problem, for minor errors-they fix themselves, for any major issues or changes-they will send you back for corrections.
* If your Approved article get any comment or question? Article Author Will Answer – If he does not, then the site has authority to remove all the links or author bio
Now, You can Contact the Blogger through Email or Contact Form.
Free Guest Posting Sites List
Summary
Article Name
Top 350+ High DA Guest Posting sites list of 2018
Description
If you want to spread brand awareness and gain the trust of lots of people, come within reach of some great benefits of guest posting Sites. This is effective for you and your organization. It is one of the best ways of building relationships, professional connections and setting brand importance.
Author
Publisher Name
Expert Training Institute
Publisher Logo