Top Content Marketing Strategies and Tips To Boost Your Business
The term "content marketing" brings to mind myriad images of blogs, YouTube videos, Facebook or Twitter pages.
But content marketing strategy remained at the back end of all great marketing campaigns even when the Internet and social media was nowhere on the horizon.
Simply put, the crux of content marketing is storytelling. Humans have a penchant for hearing and telling stories ever since they started speaking.
Great stories always command a cheering audience as in case of fascinating blogs by Tim Ferriss and marketing speeches of Kevin Spacey.
The purpose of discussing content marketing tips is also about enlightening on techniques for marketing a product that is changing with time and technology. The mega marketing success of Star Wars by Kenner Toy Company offers lessons on the power of backstory around the action figures.
But what worked in the 1980s will not work today.  Today's surprise is social media and its transformation into a smart marketing channel offering a great opportunity for effective content marketing.
Before going deep into content marketing ideas, let us see how the concept has been defined by the Content Marketing Institute. It says content marketing is a strategic distribution of valuable, consistent content to an audience and garners customer action in a profitable manner.
In all cases, website content marketing strategy is a long-term plan covering relationships by offering quality content. In all content marketing best practices, the pivot is customer loyalty. When a customer makes a purchase decision he consciously or unconsciously rejects many options of the competitors to select his favourite product.
The lure of content marketing is the care it displays on customers with constant conversations, unlike the silent one-off advertising. and you can use Paraphrasing Tools For Rewriting Content
Today's customers are very demanding, they need attention and care. The world has become too loud and noisy. This calls for personalisation in marketing and paying attention to customers with a subtle content promotion strategy.
Storytelling Has Changed
Today, reaching target customers need a digital content marketing strategy and that will be inadequate without tapping all the opportunities in the online world.
Since the storytelling patterns changed people's attention has stranded to more places and marketers need to be prepared to tell stories at places where the customers inhabit.
Areas of Content Marketing
It can be said unequivocally that the content marketing strategy 2018 will have three components to work on: online, offline, and hybrids (the offspring of two plants or animals of different species or varieties, such as a mule.)
Innovative content marketing techniques are fast selling and can promote businesses, add expertise, value, and brand awareness.
When we think of long-term digital marketing success a strong content marketing strategy is imperative accompanied by the flawless implementation. The proliferation of distribution channels is helping to take content to specific readers under an array of content marketing tips suggested by experts.
Top 3 Ways to Generate More Organic Search Traffic | Neil Patel's Content Marketing Secrets!
Benefits of Content Marketing Strategy
The main attraction of Content marketing is cost efficiency. It is absolutely cheap compared to outbound marketing. The Content Marketing Institute vouches there is immense cost saving in content marketing. It says a whopping 62 per cent is up for grabs compared to outbound marketing.
It leads also, the gain is 3 times more if content marketing ideas are rightly applied.
Favourite of B2b Marketers
Nearly 88 per cent of B2B marketers claim that they accord high priority to content marketing. Content marketers preoccupied with website content strategy have set hiking conversion rates as the main goal.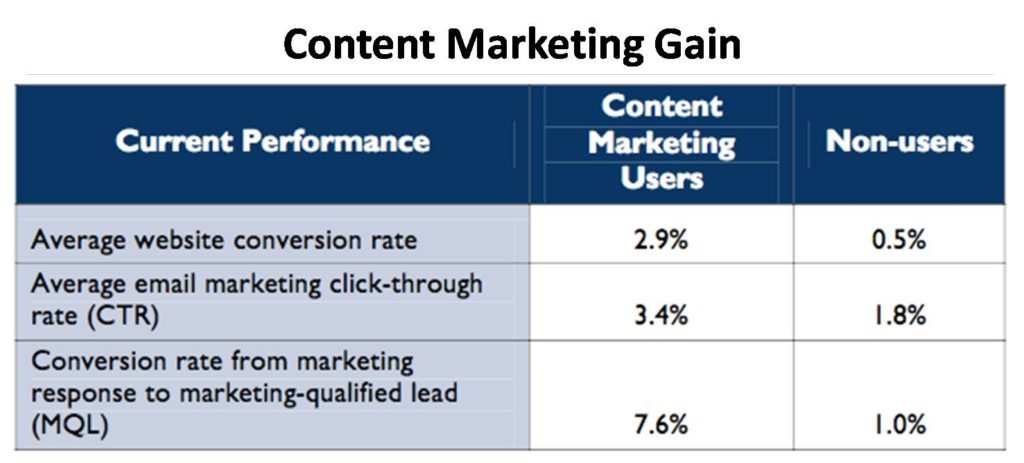 In content marketing, the gain is 6 times more than traditional marketers.
Many case studies on content marketing best practices affirm that content marketers inject8 times more site traffic than those not using content marketing.
It is estimated that 200 million people are using ad blockers to escape the nuisance ofpaid advertisements popping up.
Here we will be discussing tips that help in getting the most out of content marketing by using healthy content promotion strategy in taking performance to the next level.
Create Best Content
At the heart of successful content marketing campaigns is fair content and readiness to double-check everything written before sharing or distributing.
Digital content marketing strategy allows outsourcing content or using writing/proofreading/editing tools as good options. There are many resources such as EssayGeeks and Hemingway App to help out.
How to Write Engaging Blog Content For Boring Industries
Content Must Focus on Customer
To become a great marketer and business owner understanding of the customer is a must. That holds true in every business. It revealshow people buy products or services. The content marketing strategy 2018 calls for extreme focus.
Relevancy adds value for customers and accelerates sharing that breedbrand awareness on social media.
Set Up Content Marketing Goals
Like in any business or journey, a roadmap is needed in content marketing too. There must be clarity on the goal of promoting content. Be clear on the aim of brand awareness or sales? Set visible goals in Content marketing before starting off.
In using content marketing techniques bear in mind that the majority of consumers are looking for "free" stuff that too value-rich. Marketers and brands demanding money often fail to see the benefit of eliciting customer loyalty by offering information via free content. It also expands reputation, exposure, and trust of a business.
Optimise Content to Drive Leads
Leveraging content depends on the business goals. Many B2B marketers allocate 40 per cent of the budget to content marketing. It is reported in The Truckers case study that good content will hike conversion rates almost 79% with a rapid spurt in leads.
Use Longer Content
It is a proven fact that longer is the content more it attracts people andsearch engines. A report by Backlinko attests that longer content has the potential to achieve higher ranks in search results and top SERPs. It says top search results in Google have an average content size of 1,900 words. A blog post of 2,500 words is self-sufficient as a force multiplier in content marketing strategy. The benefits of long content are
Ability to capture attention and add information
Ease in adding keywords and SEO action
Faster developing of a website's authority
Understand Target Audience and Buyers
One of the foremost content marketing tips is about having clarity on the target audience before embarking on any kind of marketing. It applies to content, social orsearches engine marketing across the board.
This is because all customers are not equal and the content promoted must be able to trigger appetite and sale must follow.
Failure to comprehend ideal target buyers or buyer will hinder the execution of content marketing ideas and energy, time, and money will go to waste.
Gain Authority from Guest Posting
In developing a website content strategy, marketers highlight the importance of guest posting. "Why should I carry external content when I can write my own content" is a standard thinking.
But the reality is that benefits outweigh such stock perceptions. When the goal is attaining bettersearch engine rankings, more traffic and brand power potential from guest posts cannot be ignored.
Optimize Headlines
Vague and shoddy headlines distract readers and poor results follow. Posting links and inviting fans and followers to click is one of the finest content marketing best practices.
To get maximum results, it is very important to optimize headlines for search engines and get readers.
4 Easy Ways to Measure Content Marketing ROI | Is Your Blogging Worth The Effort?
Off Exclusive Content to E-mail List
Another successful content promotion strategy is offering stimulating content to make people feel special by allowing subscribers to receive "best of information." This is done by wooing individuals through consistent e-mails and delivering what is promised.
Be Consistent in Content Updates
For content marketing to succeed, there must be consistency. That builds a brand's reputation and enhances digital content marketing strategy through shareable content. This means publishing fresh content. The essence of content marketing strategy 2018 involves content distribution via automation software.
Make Way for Easy Social Sharing
Among the smart content marketing techniques, enabling social sharing and making it easy for readers to share the post at the click of a button is most effective.
Persuading readers to share content on social media by creating aCTA (call-to-action) as soon as they finish an article will be a result-oriented step.
One more option for easy social sharing is adding Tweetable quotes from 6 ActionableSEO Strategies for Improving Customer Service.
Go for Repurposing of Content
According to case studies, repurposing of content is a good content marketing strategy. Examples can be articles converted as video, infographics, podcast and PDF and using each content for greater promotion.
Reaching out to bloggers and asking to add infographics to their site forgetting a backlink is one of the brilliant content marketing tips. There are many podcasting directories to add new podcasts.
Concentrate On Social Networks
Mature content marketing ideas also involve reaching out social media channels. Building a strong community and expanding reach at the target audience spending time at Facebook, Twitter, and Instagram will be very useful.
5 Tips For Writing An Awesome Blog Post
Syndicate Some Part of Content
Content syndication is a plausible website content strategy involving free content distribution to obtain backlinks for a business website.
By syndicating an article to many blogs backlinks from quality sites are assured. Content syndication has become a viable content marketing best practices.
Focus on Brand Awareness
Content marketing efforts should work in tandem with multiple goals.Brand awareness must be the core goal of a marketing campaign in widening a brand's reach.
Add Quotes of Influencers in Content
One nice content promotion strategy is bringing influencers on board to enhance brand value. Their opinion can enhance credibility for the content being discussed. A comprehensive digital content marketing strategy calls for content that has quotes of influencers to reap amazing benefits.
Getting influencers to promote content to the target audience has become a popular content marketing strategy 2018
Result oriented content marketing techniques factor in analyzing the audience and brand's trustworthiness prior to using quotes. These elements make a difference between a good and bad investment in influencer marketing.
Pay Maximum Attention to Keyword Research
Keyword research is important. Specific keywords are a requisite for survival in the market. Many marketers commit mistakes in keyword research and make campaigns vulnerable.
Try to Educate than Sell
Content marketing is akin to a selling a machine. By using disseminating free content via blog posts, social media posts and newsletters the primary goal is to bring reluctant prospects from a point (say A) to point B (very interested) for doing something or solving a problem in making a customer.
Follow Analytics Results
In evaluating a content marketing strategy's efficacy, optimization must match the scale-up efforts planned. For this, tracking results from analytics will be valuable.
The patterns in content marketing tips are self-evident as "winning" content will show what is working and what does not.
Use Data to Optimize Content
Companies are in a race at amassing customer data to acquire an edge in the competition for leads. That is why the name, e-mail, phone number, gender data of website visitors are collected. Advertisements matching the demanding work as a conduit in data collection. These content marketing ideas drive sales and value.
Produce Evergreen and Trending Content
In creating content, adequate attention must be paid to developing evergreen and trending content as a website content strategy to expand user attention. Research reports say 70% of content efforts go into evergreen subjects, while 30% is spared for trending topics.
Writing about hot topics is fine. But be careful to carry a new angle, statistics or research the company has gathered to be seen in the content to avoid becoming an also-ran or copycat.
One of the valued content marketing best practices involves writing evergreen subjects having perennial benefit with updates to keep it fresh.
Use Simple Language
The kernel of any content promotion strategy is keeping it simple and not baffling readers. Bing simple and lucid pays off. A great article will render a subject easy to understand, easy to read and easy to speak about.
Having a basic digital content marketing strategy framework helps startups as well as established enterprises.
In start-ups chat that is high in casual jargon or an accounting firm's business like communication cool examples and easy-to-understand language must be evident.
How to Promote Your Content When You Have No Followers
Constantly Engage with Prospects
The core of content marketing strategy 2018 calls for connecting with prospects and customers using content as a medium. The content can be articles or videos that address the audience directly.
Comprehensive content marketing techniques also involve setting up Call-to-Actions (CTAs) as people need to be told what to do. They can be liking a social media page or requesting a page "like."
In adding subscribers, create call-to-action for sign-ups. Effective CTA buttons will alert users about what they need to do.
Get a Review of the Content
Editing the content one has written is not a right content marketing strategy. Creators face difficulty in objectively judging whether a subject has been written fairly. Allowing a second person to look over the content will get a balanced feedback.
Use the right Traffic Channels
One of the untold content marketing tips is that no content is fit enough to be posted everywhere. Some traffic channels are hard to leverage. The wiser way will be to focus more on platforms that give good results.
Always look for worthy content marketing ideas and make sure 80 percent of best content goes into 20 percent of the best channels.
Apply 80/20 Rule to Content Marketing
An intelligent digital content marketing strategy subtly follows the Pareto's principle that 80% of the effects come from 20% of the causes.  In fact, the content marketing strategy 2018 harps that ideally 20% of the content must generate 80% of results. That means if you can develop 20% content that is exceptionally good, then the main goals are taken care of.
Keep Pace with the Marketplace
All website content strategy goals accept the reality that a digital environment is changing constantly. Online marketers face the risk of lagging behind by ignoring this reality of a changing market. All content marketing techniques are impacted by advancing technology that causes fluctuations.
Among the top of the mind content marketing best practices, closer attention to what is on will help in staying ahead. Figure out the new elements in a content promotion strategy in terms of marketplace rules, trends, and topics for grabbing more attention.