Digital Marketing Salary Growth Prospects In India
The digital marketing industry is growing at an amazing rate of 40 percent plus opening floodgates of job opportunities. This has unveiled a scenario of fat digital marketing salary too.
The glaring shortage of qualified candidates for filling the openings is also contributing to rapid pay rise in the industry.
The tight supply situation of well-trained personnel has made digital marketing an employee's market with salary jump gracing freshers within a few months of joining the industry.
Salary hike in the digital marketing sector mainly depends on skills. Digital marketing salary for freshers varies on the basis of the size of the company joined.
In general, salary in digital marketing jobs salary hinges on the level of talent, experience, and motivation that a candidate displays on the job.
Scope of DIGITAL MARKETING for Business | Career Opportunities and Salary in DIGITAL MARKETING
Scenario in India
Digital Marketing salary in India is noted for fat packages at senior positions. Salary of a Digital Marketing Manager in India is almost five times that of a Digital Marketing Executive who joins the industry as a fresher.
At the senior level, the thrust is more on strategizing and supervision of the plan implementation.
The Rationale for High Salaries
Compared to other industries, digital marketing entry-level salary is high in the online marketing industry. Digital marketers are indispensable for brands in running marketing campaigns.
They know the techniques to target and woo potential consumers hanging around in online hubs that traditional marketing tools are unable to unlock. Brands see the payout for digital marketers in terms of online marketing salary as an investment than expenditure.
Knowledge Seekers or Certificate Holders
According to an HR official, a shortage of skilled people at the entry level is a reality in the digital marketing sector. That is why the digital advertising salary of freshers is kept at a high in the range of Rs 12, 000 to 17, 000 (US$200 to 300) where a salary revision in 8 months takes it to 18–25 thousand.
There is a consensus among industry experts that the onus of commanding high digital marketing career salary in India rests with the individuals. Good performance, creativity, and passion for developing new solutions for digital marketing campaigns.
The HR expert also says he has more faith in candidates coming without certifications. They do not behave like the conventional job seekers who are reluctant to study beyond what they had learned at the institutes. Unlike the former, those without certificates are self-driven and seek knowledge and experience.
The digital marketing starting salary is no yardstick to decide how much a person will be earning as he grows in the career.
The recipe for high digital advertising salary is to rise up to the demands called by the given role. High internet marketing jobs salary rewards innovative professionals and knowledge seekers led in innovation.
Top Jobs in The Industry
Some of the high paying roles in the digital marketing sector include the following
Digital Marketing Manager
Social Media Marketing Manager
SEO Expert
Content Marketer
Email Marketer
Google Ads Expert
Opportunity in SEO
Search engine optimization (SEO) is almost mandatory for every business website to get more traffic. Website owners cannot work without SEO experts or SEO consultants who are well versed on algorithms and know the strategies to take a site to higher ranks in unpaid searches.
In digital jobs, SEO is a hot area of with high demand and better salary offers.
Job openings at the starting level include SEO trainee and they grow up to become SEO Analysts, Link building strategy experts, SEO project managers.
After 3 years of experience, based on the size of the company, the average salary per annum can vary from Rs 4 lakhs to 7 lakhs. Those with 8 years and more experience earn an annual salary of Rs 15 lakhs plus.
Freelance Digital Marketers Salary
There are a good number of freelancer digital marketers who work as freelancers. Freelance digital marketing salary depends on the fame of the professional in the industry. Those with ample experience in Digital Marketing and a good portfolio of successful projects can command good money.
Promotion graph is certainly high in the digital marketing sector compared to other industries. Knowledge of recent trends will ensure an influential role in the sector. To thrive as a digital marketing freelancer with high earnings, there has to be good domain knowledge and unique thinking as essential factors.
Salary and Job Profiles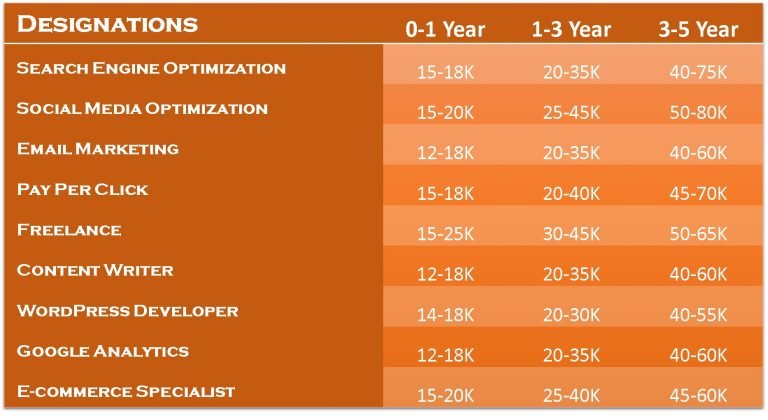 Digital marketing professionals will be required to handle marketing projects by aligning the plans with the goals and values of the organization.
However, online marketing jobs salary will remain lucrative as Digital marketing industry demands many skills during the action. They include crafting smart advertising strategies and promotional plans with a sharp eye on effective implementation to expand sales.
High Salary in Some Countries
There is Digital marketing salary guide throwing some new light on trends in high salaries prevailing in certain countries.
Australia: Here the average salary is US$ 63 000 per annum for digital marketing professionals with an hourly wage of around US$32.  Highly experienced professionals earn up to US$ 87,400 in a year.
Netherlands: Netherlands salary in digital marketing is in the range of US$ 38,765.1 – 64,988.55.
USA: Digital Marketing personnel earn a median salary of $47,000 a year. The earnings stretch from $35,122 to $63,810.
Canada: In Canada, Digital Marketing Specialists earn an average is US$ 37000. Those at entry-level earn US$ 25000 onwards in a year. The experienced personnel takes home an average US$ 52,000.
UK: Here the average specialist's salary is US$ 43,000 per year. A fresher gets $29000 and the richly experienced digital marketers can get as high as US$ 60,606.
Ireland: Ireland specialists earn an average salary of US$ 42,185.55 a year. The entry-level salary is around US$ 29,643.9 and the highly experienced get US$ 59 000 per annum.
Singapore: Digital Marketing Specialists in Singapore generally earn between US$ 28,000 to US$42,000.
The above-cited salary structure excites serving professionals and newbies seeking to join the industry with the hope that digital marketing salary for freshers in India will also zoom further after being impacted by the new global trends.
Expert SEO Training Institute provides the best training in regions like Delhi. If you are looking for a digital marketing training institute in Kerala, we suggest you contact Digital Skill Master, a sister concern of SpiderWorks Technologies, established in 2005. With over a decade of experience with digital marketing for clients from India and abroad, Digital Skill Master is your best choice among the digital marketing institutes in Kerala.