Best and Top 25 Freelance Websites to Find Work in 2018
Freelancing has caught the imagination of the modern professionals who are leveraging the surge of gig economy that is offering a good number of short term and long terms jobs that can be done from the comfort of home.
Supporting them are thousands of popular freelance websites that showcase jobs and clients which are just a click away.
Users of freelance websites are discovering that freelancing is all about smart work and good money. Unlike a full-time job, freelancing unfolds the opportunity to earn from multiple sources.
Best freelancing sites have opened doors to a wider market and work matching skills and experience of all categories of freelance workers.
Certainly, the world of '9-5' jobs has crumbled as evident in the soaring popularity and user demand for best freelance websites.
The revenue made by the best freelancing sites shows how freelancing has become a popular alternative to traditional employment.  As can be seen, the expansion of gig economy is exploding the fortunes of many so-called best freelancer sites.
The trend is expected to stay and the birth of more freelancing websites is expected as the active workforce in the developed world and other growing economies are not looking for traditional, permanent jobs.
Benefits of Freelance Websites
As far as the benefits of freelancing are concerned, freelance job sites offer the flexibility to choose jobs that one can do at one's own pace and to refuse such work that does not deliver the professional comfort in terms of payment and timelines.
The advantages of a freelance platform are immense. An employee working in an organization will never have the luxury of choosing a client of his own.
However, in freelancing there is always the freedom to select own client and be one's own boss plus molding the business the way one wanted it to be.
Explosion in Freelancing
In the US, freelancing is a mighty component of the job market. A report Freelancing in America by the Freelancers Union and Upwork throws ample light in the key drivers of the freelance industry.
The growth drivers behind freelancing websites in India are no different from that of other global centers.
Freelancers Earning More Money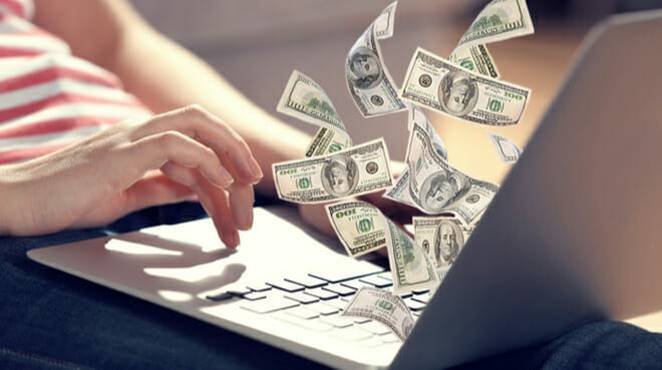 According to a survey on best freelance websites, 78 percent of freelancers admit that they are earning more than the peers in  a traditional full-time job.
Thanks to best freelancer sites, writers are earning earn $55 to $80 per blog while programmers charge $62 to $170 per hour. Obviously, this is more than what these people had been making some 12 months ago.
Employers are also ready to pay a bit high rates to freelancers as they make savings on other overheads including employee benefits, employment taxes, and the costs of running a physical office.
Freelancing Means Freedom
For users of freelance job sites, many models are available. Most of the freelance sites take commission from the payment made by clients.
Freelancing offers liberation from the pressures associated with a traditional job. Staying put in freelancing helps in making use of freedom to balance needs and expectations.
Modern-day working professionals are not ready to compromise on "work-life balance". They understand that rigorous work, stress, anxiety and a hard commute to office drain mental as well as physical health. People want to mean for their work than wasting life's precious hours without any satisfaction.
Autonomy and Comfort from freelancing
A freelance platform combines the comfort of autonomy and insularity from stress. At the flipside, freelancing has concerns about a long isolation from the mainstream workforce and shelling out from healthcare expenses and unpredictability on income, unlike a steady pay that comes every month.
The convenience of freelance sites acts like a good facilitator in promoting freelancing and majority of freelancers would advocate freelancing to others despite odds and will say it is "worth many times than a boring and frustrating job."
In a traditional job, employees have to work in a specific location/ Thanks to the efforts of freelance websites there is flexibility to work from anywhere if there is an internet connection.
India Scenario
Professionals in India concede that they find freelancing websites India very helpful in finding remote work irrespective of location or trade. According to market research data, Indian freelancers have many advanced operational domains to operate including writing, mobile development, web development, designing, and data entry. They have made themselves very sought after for clients looking for cost-effective yet quality work.
Rationale of Freelance Websites
The surge in the freelancing market has necessitated an online meeting place for workers and clients to validate each other. A typical freelancing websites list is a pillar in building confidence to the stakeholders that adequate screening is done at both sides to avoid scams.
The expansion of the internet and arrival of smartphones have made the job search easier and efficient compared to the past when aspirants had to scan newspaper ads and make physical resumes to submit before employers.
When contrasted with that past scenario, there is a yeoman service by top freelance websites in revolutionizing the way jobs are being searched and applied. Websites such as Freelancer, Elance, and Guru are very popular among freelancers in finding work. Countless job boards also support many freelancers with information on work.
The merit of top freelancing sites is they not only dispense with the pressure of traditional resume submission and cold calls, it is a high-speed process. Resume submission and selection are completed fast track.
 Top Freelancing Websites
Here we are discussing some top freelance websites and analyze how they support aspirants in finding work and good clients.
1. Out of Best Freelance Website – Toptal
Among the top freelancing websites list Toptal stands out with tons of work for freelancers. Here aspirants have to face a tough screening process before getting access to good clients and a competitive compensation. Total accepts only top three percent of applicants after filtering showing the value they attach to merit and talent.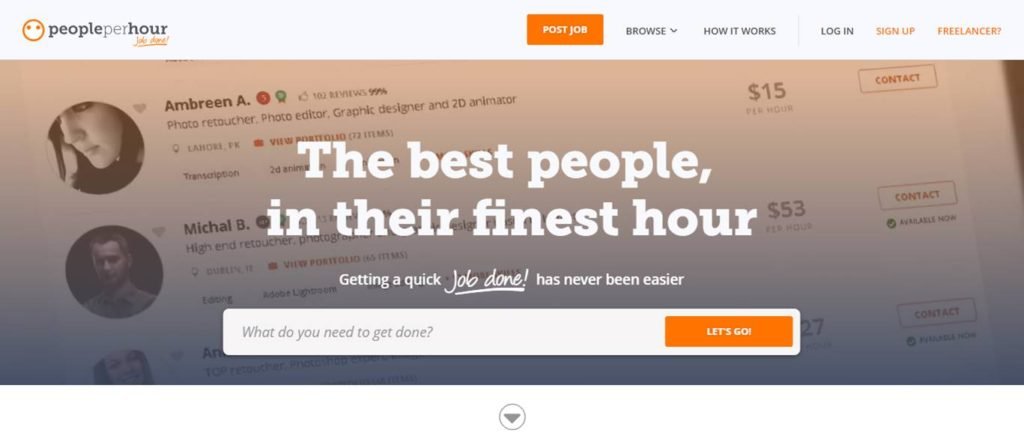 2. Out of Best Freelance Website – People Per Hour
This freelance site offers plenty of assignments to Marketers, software engineers, SEO specialists and other workers in the tech sector. There is a streamlined process of freelancing by organizing communication, payments and job management.
At People Per Hour freelancers can send an average 15 proposals for free. Beyond that, there will be a fee. It allows freelancers to browse jobs and get notifications on for new openings at no cost.
3. Out of Best Freelance Website – Upwork
Among the top freelance websites Upwork has a vast client base millions of short term and long term jobs on offer. Projects are available on both hourly and per-project basis; it means there is space for everyone. The vast chunk of work makes it easy to find work through this platform. After the work is done, funds are safely transmitted to the freelancer.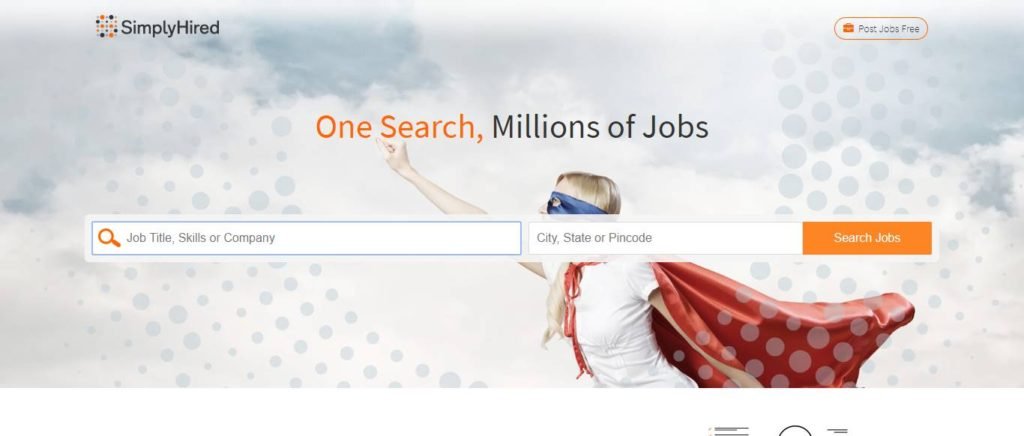 4. Out of Best Freelance Website – Simply Hired
Simply Hired is a gold mine as one of the top freelancing sites. Here freelancers can find work in any field and find work in 24 countries and 12 different languages. The site offers opportunities even for construction workers or salespersons as the clients come from a wide range of sectors.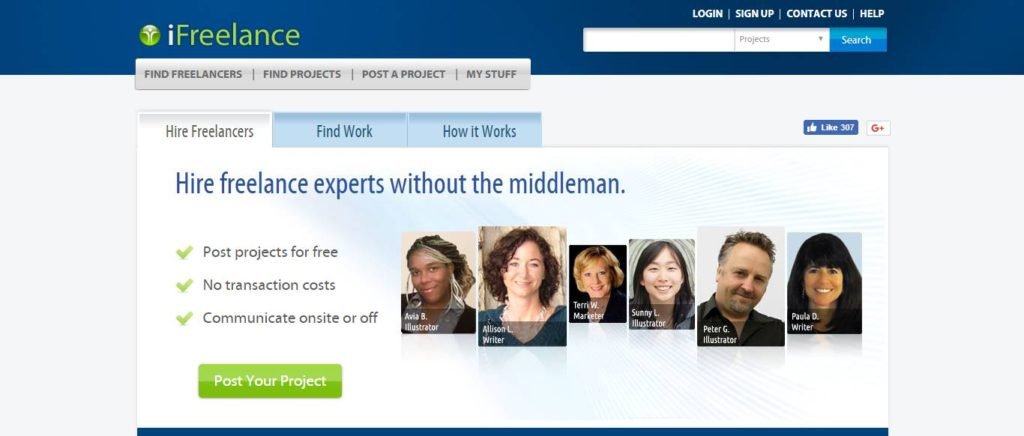 5. Out of Best Freelance Website – Ifreelance
For editors, coders, and writers and freelance marketers this is a bankable site. What makes it more unique is freelancers can keep 100% of their earnings and the site refuses to take a cut, unlike other platforms.
6. Out of Best Freelance Website – College Recruiter
The website is a boon for college students to earn some cash while in school. Students and fresh graduates can many part-time gigs.
7. Out of Best Freelance Website – Aquent
Aquent has lots of opportunity for remote working and is one of the best freelance websites for freelancers. It offers free online courses that provide training on practical skills for freelancers to hone skills or sharpen them. They can search keywords and a location or browse the current job openings in selected areas.
8. Out of Best Freelance Website – The Creative Group
Best freelancer sites offer work for professionals in art, marketing, copywriting, photography, and graphic design get good support from Creative Group in finding work. There is a wide range of assignments–full time, short-term and contract. It can be found by filtering with "freelance" to refine the search.
9. Out of Best Freelance Website – Croogster
 The India based site is growing fast in the United States and the United Kingdom too. Croogster helps clients and freelancers to post what they offer.
This is a remarkable and the best freelancing sites, in terms of exposing Freelancers with short profiles that can tell details such as skills, turnaround time, and rate. Clients come up as buyers just as in e-commerce sites. Clients post projects to hire freelancers and freelancers can bid.
10. Out of Best Freelance Website – Crowded
 Among the high demand freelance job sites Crowded brings together freelance job postings and independent workers in an area solving problems of demand and supply on the job front. For freelancers this is highly useful as the job boards are awash with jobs and positions can be grabbed quickly.
Here large tasks are broken up into smaller and manageable tasks with qualified Freelancers working at the integrated platform. For outstanding work by any freelancer greater compensation and more future work is assured.
11. Out of Best Freelance Website – Freelancer
 In India, there is a huge demand for a wider range of working options including hourly work. The freelancing websites India including Freelancer runs contests and users can browse through jobs commensurate with skill levels to pursue chosen openings.
12. Out of Best Freelance Website – Guru
At Guru brilliant work in the past is the key to new jobs. The site shows how much clients have invested in hiring from the freelancer pool. That is a ready reckoner in judging a good client. Jobs can be chosen based on location, category, hourly or fixed rates.
13. Out of Best Freelance Website – Freelance Writing Gigs
 Within the top freelance websites, this freelancing site offers a niche segment for writers and editors. Freelance Writing Gigs has continuous updates with new jobs in writing, photography, healthcare to technical writing. Projects in big numbers inspire writers to try a hand on many jobs.
14. Out of Best Freelance Website – Fiverr
 This freelance platform works in the opposite way of traditional platforms. Here Freelancers can create their own jobs on the basis of core skills than clients posting jobs to hire freelancers.
This effectively markets the services of Freelancers to put their gigs into categories by using keywords that show up in different searches. Since freelancers start their price at $5 per project, the name has been appropriately chosen.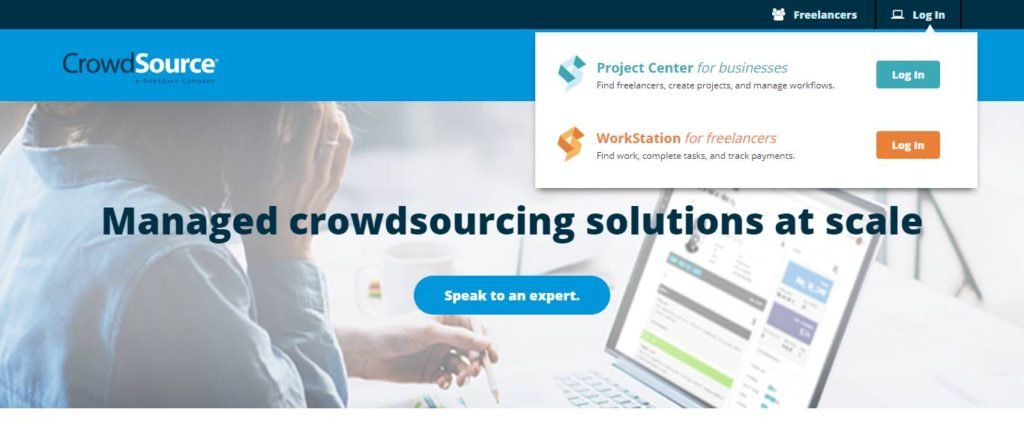 15. Out of Best Freelance Website – Crowdsource
 Many freelance websites claim big pools of talent for various trades. At CrowdSource, content creation, editing, and online retailer monitoring, media and publishing professionals have a substantial presence.
16. Out of Best Freelance Website – Kolabtree
Kolabtree is the world's largest freelance platform for scientists and academics. It's especially popular with PhD-qualified freelancers offering services such as statistical analysis, data science & analytics, literature search, scientific writing & editing, scientific consulting, and more. The platform has helped 2,500+ businesses worldwide hire experts on demand. We now have over 10,000+ registered experts globally.
   18. Out of Best Freelance Website – Peer hustle
 In top freelancing sites like Peer Hustle geo location guidance to freelancers offers a real-time display of jobs. They can compete with candidates for other location jobs of local companies. A person working remotely can instantly communicate with potential clients. The escrow account takes care of timely payment and the freelancer can begin the work with confidence.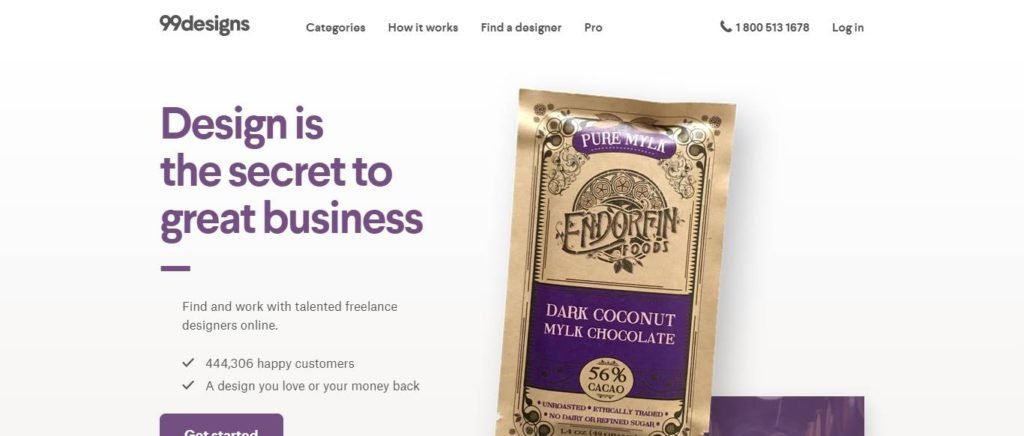 19. Out of Best Freelance Website – 99Designs
 This platform is one of the best freelancing sites for freelance designers who are ready to compete in contests. Clients choose this platform for designers to get work and build a portfolio.
20. Out of Best Freelance Website – Krop
 Out of the best freelance websites, Krop's popularity relates to the efficient search functions that allow freelancers to find full time and part-time work. Freelancers of all experience levels can always get something from its job board.
21. Out of Best Freelance Website – Craigslist
 Among the best freelancing sites in India, the job site Craiglist is a hidden gem for freelance jobs. It offers local as well as global locations to work remotely. Anyone can post a listing. Craigslist is special for its focus on projecting local freelance work opportunities. So, it helps in meeting with the persons face to face before the project starts.
22. Out of Best Freelance Website – Linkedin Profinder
 Among the freelance job sites LinkedIn has one special site dedicated to gigs. As we know, LinkedIn as social media has unlimited resources for business related things and is present in 200 geographies covering 420 million users.
Professionals list their profiles on the site and the vast user base helps in connecting quickly to other professionals in different fields.
23. Out of Best Freelance Website – Localsolo
In any freelancing websites list, the Local solo is noticed for being absolutely free. By uploading profiles on this platform a good start can be made. There is no commission fee. Clients can negotiate directly with professionals regarding rates, payments, and contracts. The profiles with LocalSolo get easier attention.
24. Out of Best Freelance Website – Project4hir
In best freelancer sites connects workers with clients from all parts of the world. Freelancers can bid for jobs posted by clients. Clients offer details of project scope, skill sets, and experience expected for the projects. Jobs range from graphic design, programming, and even bookkeeping.
25. Out of Best Freelance Website – Designhill
In this virtual freelance platform creative professionals have a pre-eminence. In the interactive environment of freelance sites, client's real-time feedback and designers can understand what a client is actually looking for.
At freelance sites like these, Freelance designers can build up portfolios to showcase their work to potential clients. The content helps freelancers to compete. If a design is chosen by a client feedback, revision requests will follow prior to payment.
26. Out of Best Freelance Website – Remote
Freelance websites like this play the role of a direct bridge to potential clients from the side of professionals. Clients send out job requests if the skill set matches that of Freelancers to sign contracts. Documents and payment processing can also be done through this platform.
Remote also supports freelancers with reviews for completed jobs. An impressive profile in Remote will make a good resource in finding freelance work.
Indian freelancing sites
Many studies have highlighted India's potential as the fastest growing biggest freelancer markets in the world as echoed in the words of Narsi Subramanian, a senior official with PayPal India. He notes Indian freelancers are relatively young and a majority are below the age of 40.
As already mentioned, freelancing is thriving in India. The best freelancing sites in India, according to some users, include names like Truelancer, Touchtalent, WorknHire FreelanceIndia and Engineerbabu.
Some of the freelancing sites in India have become big brands. The proliferation of freelance sites points to a paradigm shift showing that the insecurity surrounding freelancing is out; it is no longer a contract work as the tag has assimilated many industries.
Outlook on Freelancing Market
In the new age perspective, freelancing is essentially solo entrepreneurship and a stepping stone for a business career providing jobs.
In that light, freelance websites play a crucial role in building the community of professional freelancers and businessmen changing their lives. Despite challenges like establishing a name and wearing many hats like marketer, writer, accountant, and salesperson there is no end for excitement.