5 Steps to set up your BigCommerce Shop
The popularity of smart electronic devices, the increase in the number of social network users as well as the complicated situation of the pandemic open up new directions for the development of e-commerce.
You can start and sell almost anything digitally. And BigCommerce, Shopify, WooCommerce among many other platforms have the opportunity to expand their audience.
Let me tell you this, you have the idea of ​​an online store.
That's great! But implementing it effectively is another matter. "A journey of a thousand miles begins with a single step". Today we are going to start that journey with the first step called: setting up your BigCommerce shop.
I chose BigCommerce because it is an all-in-one eCommerce platform that allows you to create a fast online store, with many powerful features without causing too much hassle for the users. The article is a combination of personal views with the opinions of a large user community, so it is not advertising!
5 Steps to set up your BigCommerce shop
Setting up a whole new store is starting from scratch. It takes more effort than migrating your store to BigCommerce. But this process is easier than you think, even for a non-tech user.
Step 1. Create an account on BigCommerce
Everything will only start with you successfully creating an account.
BigCommerce homepage interface
Immediately after accessing the homepage of BigCommerce, in the upper left corner of the screen, you will see 2 options Enterprise for Business and Essentials for personal users for free experience. If you want to sign up for a business account then click on Request Demo and if you sign up for a personal account then click on Essentials and navigate to the 'Get Started' button to sign up for a free trial.
If you represent a business, after clicking Request Demo, you will be redirected to the registration page for Business. You just need to fill in the information including:
First and last name
Business email address (form yourname@yourdomain.com)
Your company's name
What is the expected annual online revenue?
Phone number
Nation
BigCommerce customer support will be responsible to contact your business within 24 hours to clarify the needs of your business and provide reasonable advice and services.
For customers who want a free trial, click on Essentials then click Get Started or Start your free trial to start signing up for a free trial account.
Sign up for a free trial account
After clicking Get Started, a popup will appear with full instructions for you.
Dialog boxes appear and show the information that you need to fill in such as registered email address, store name (this name can be changed), password, first and last name, phone number, and size ( estimated monthly sales), after entering all the information, click Create Your Store.
You will be asked to fill in some information about you and your store such as:
Do you have an existing website? (If yes, please enter the website URL).
What will you be selling? (industry you are in)
What best describes how you currently sell your products?
If you haven't made your decision, select Ask me later. On the other hand, if you're ready to have your store, select Finish.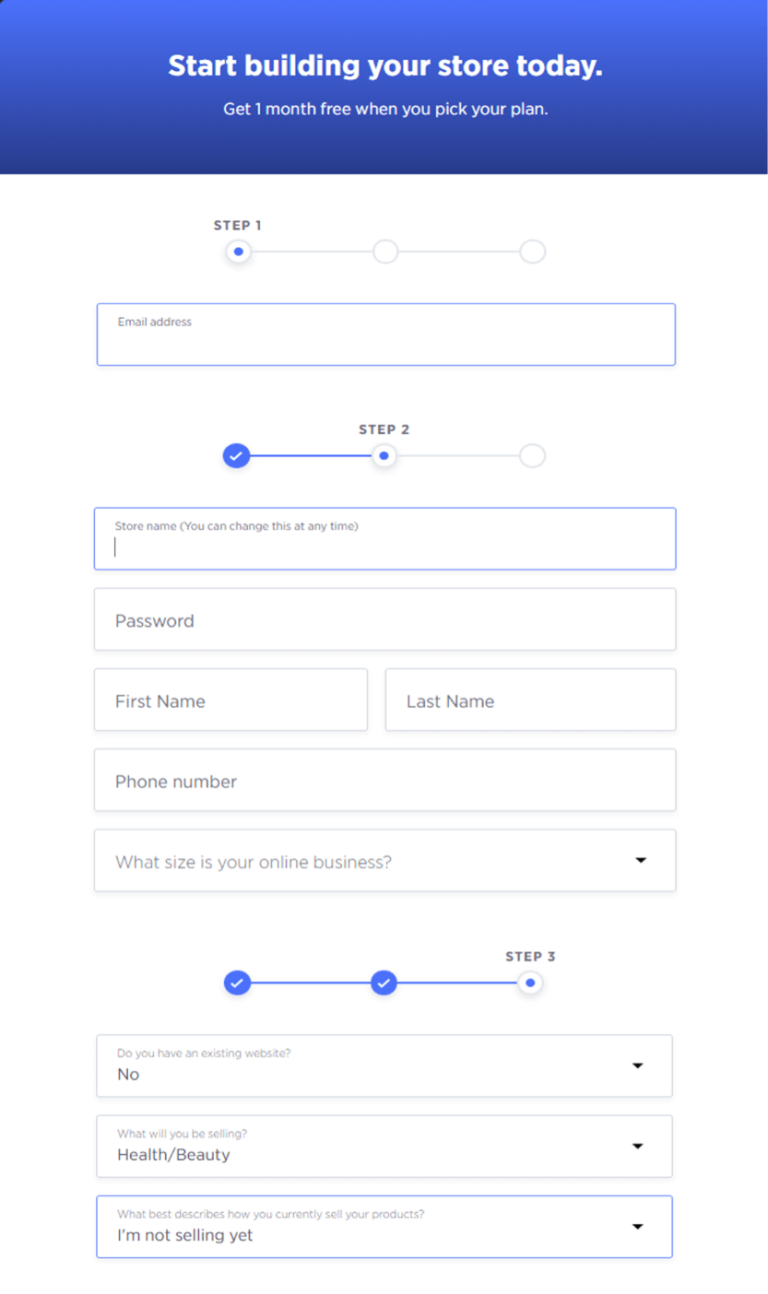 You need to fill in the requested information in turn
You will then be redirected to a BigCommerce dashboard with key features like Orders, Products, Storefront, marketing, Advanced Settings, Store Setup, etc. which helps you customize the details during the setup of your BigCommerce shop process.
BigCommerce Dashboard
If you'll be working with others to build your store, it's a good idea to set up additional accounts by clicking Account Settings from your dashboard. Click Create a user account. You can set different permissions for each user, depending on their role.
Your store will then be created in Test Mode for you to customize as you want.
Step 2. Complete store information, currency, payment method, tax
Key information related to your store
This step will help shape the basic information related to your store.
Store Profile
Observe the menu on the left-hand side and select Store Setup, click Store Profile. Complete the requested information and click Save when finished.
Note: provide information as clearly as possible. This helps to increase customer loyalty
Set up eCommerce functions for your online store
Currency
E-commerce is becoming more and more popular because of the convenience that customers can get in the shopping process. Paying in different currencies is one of those conveniences.
In BigCommerce, you can set up two currencies, the display currency, and the transaction currency. If a currency is set to display only, customers will see prices on the storefront in that currency.
However, transactions will proceed in the default currency of the store. Meanwhile, the transaction currency will be displayed in the product price in the storefront as well as in the payment details. Please note that you need to enable a supported payment gateway to trade currencies.
To set up your store's currency, navigate to Store Setup > Currencies. In the Default Currency section, you can click Edit to set the Currency display.
In the Default Currency section, you can set the Transaction Currency. Simply click the Add new currency button and provide the currency code to get started. You will have to pay attention to the following information:
Payment procedure
BigCommerce allows you to customize the payment details yourself, or use Optimized One-Page Checkout to reduce hassle and streamline the checkout process to increase sales conversions.
You need to navigate Advanced Settings > Billing. On the Checkout page, select the checkboxes to complete the order confirmation page setup.
To set up a payment method, navigate to Store Setup > Payments. Then, select the method you want to use by clicking the Set Up button next to it and providing the necessary information to complete.
There are 2 methods that you can set up to facilitate customer payment:
Online payment
Online payment gateways: You can set up popular online payment companies like Square, PayPal or Stripe for your customers to pay easily.
Merchant service accounts: You can set up through Chase Merchant Services, for example.
Digital wallet solution: You can connect your online store with Visa Checkout, Apple Pay, Chase Pay, Google Pay, and Masterpass.
Offline payment
BigCommerce also allows you to set up less common offline payment methods like money transfer, cash on delivery, or in-store payments for things that customers pick up in your physical store.
Shipping Rates and Methods
You can set up and manage your BigCommerce store's Shipping right in the dashboard. From the dashboard, navigate to Store Setup > Shipping. BigCommerce gives you many options when it comes to shipping, so it's best to watch a video tutorial on shipping before setting it up so that you fully understand the best shipping solutions for you.
On the Shipping Manager page, you will need to configure the Shipping Origin and Payment Shipping Options.
Origin Shipping is equivalent to your shipping warehouse. It could be anywhere: your home, a warehouse, or an intermediary.
Shipping Options Payment is the shipping method you set up including Free shipping (when the order reaches a certain value), Flat-rate shipping, and Ship by weight or total order. charge), Pickup in the store. Besides, you can also connect with carriers for real-time delivery.
Taxes
BigCommerce requires you to collect tax on orders. To set up automatic taxes for your store, you need to select Store Setup > Taxes. Then, scroll down to Tax Settings and select Edit to continue.
However, in case you have taxable items outside of BigCommerce's formula, you can set up your own tax rules manually in the Manual Tax section. You should also visit the BigCommerce Help Center for instructions on setting up manual taxes.
Marketing functions
Promotions
Promotion acts as an incentive for customers to buy your store's products. To set up a promotion, please navigate to Marketing > Promotions. Here you will see Auto promotion and Coupon promotion.
Automated promotions will automatically reduce the total price your customers need to pay when they add to their cart or checkout as long as these orders meet specific requirements. Just click the New Auto ad button and start editing.
Email advertising
Choose Email Marketing in the Marketing section. Here you will see the Newsletter Settings section, and you can simply select the check box because the description of each option is displayed directly below them.
Step 3. Design and improve your site content
Choose a BigCommerce store theme
BigCommerce's default theme will be Cornerstone Light with a fairly simple but functional layout.
Cornerstone Light Theme
To edit your store's theme, visit the Theme Marketplace on the BigCommerce Storefront tab in your dashboard. BigCommerce offers 12 free themes suitable for most new online stores. There are also over 120 premium themes to choose from ranging in price from $165 to $250 for you to choose from. And of course with paid themes, you get more store upgrades.
You can also upload a custom theme for maximum personalization of your store. However, make sure you have enough IT capabilities as BigCommerce does not provide technical support for user-uploaded themes. The platform also cannot add new features to your custom themes.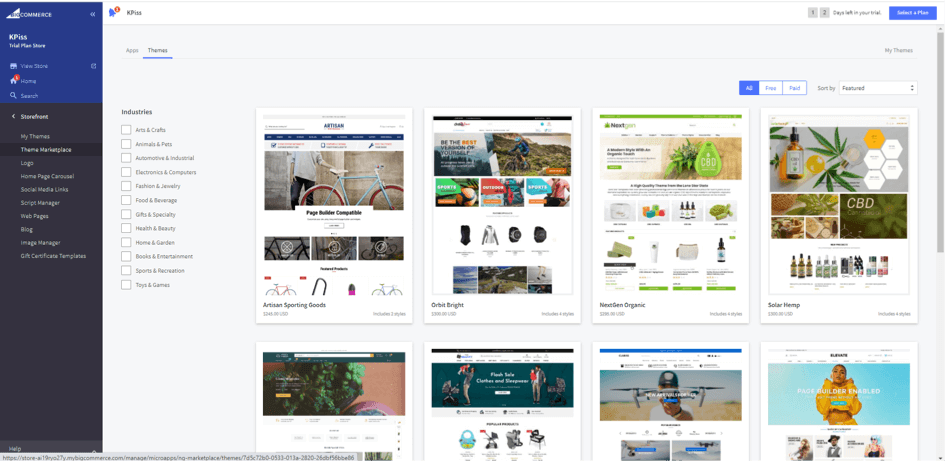 You'll have tons of themes to match your store
Once you've chosen your theme, you can customize it at any time. From your dashboard, simply navigate to Storefront > My Themes and click the Customize button to start editing the look and feel of your theme.
Customize your website
You can customize theme elements like colors, text font size, featured products on the homepage, and the like using the Page Builder. Plus, BigCommerce offers a drag and drop interface that allows you to organize the content of your web pages easily.
To launch the Page Builder, please go to Storefront > My Themes and click the Customize button below the theme.
You will then see the Page Builder section on the left side of the edit screen. There are Layout, Text, Image, Hero Banner, … and all you need to do is drag and drop these widgets into the editing page.
Besides, you can edit Theme Styles by clicking on the icon color palette below the Widgets and Layers section. The Theme Styles feature allows you to customize attributes such as colors, fonts, font sizes, and some design elements of the theme such as headers, logos, BigCommerce navigation menus, and footers.
Add content page
To add a website, you need to go to Storefront > Website. The View Sites screen displays all the websites in your BigCommerce store. You can edit, preview, or delete any page you want. To get started, please click the Create Website button.
When you're done, click Save & Exit or Save & Add Another to continue adding web pages.
Alternatively, you can add a contact form to make it easy for your customers to contact you. As a BigCommerce store owner, you can use the built-in contact form or use a more powerful third-party contact form created specifically for your business. In this BigCommerce tutorial, we show you how to add a built-in contact form.
All you need to do is select the option Allow people to submit questions/comments via the contact form when creating the website. You can then add any information, messages, or images in the Page Body section and they will show up above the contact form.
Step 4. Business Store Management
Set up information about products, orders, and customers
Products
In the process of setting up your BigCommerce shop, building the Product Categories helps you to add products more scientifically and accurately. A good catalog also means higher rankings on Google as the search algorithms will better understand the structure of your site.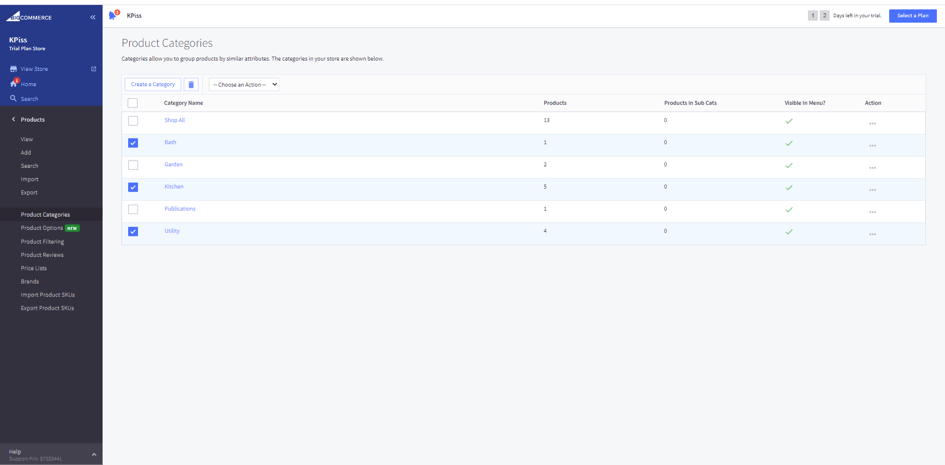 Set up Product Categories
Click on Products on your control panel, then click Product Categories. You will see that BigCommerce has added some sample product categories to your demo store by default. If the demo store catalog matches what you sell, keep the ones you need and delete the ones you don't.
To add new categories, simply click the Create Category link. When creating a new product category, BigCommerce provides eight unique fields for you to set up new product category parameters including Name (1), URL (2), Description(3), Parent Category (4), Template Layout File(5), Sort Order (6), Default Product Sort (7), Category Image (8).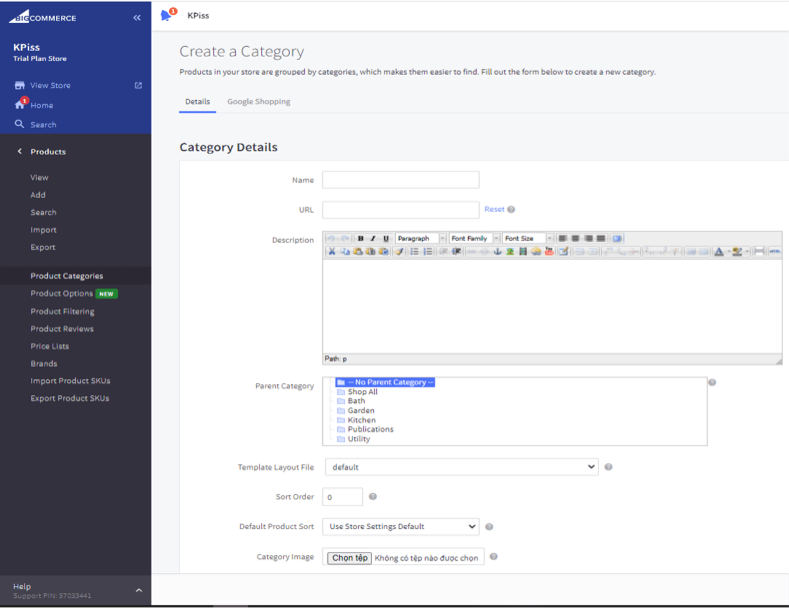 In which items (1), (2), (3) need to be completed before continuing to build your store. Elements 4 through 8 can be added at this stage or later — or you can choose to skip some altogether.
To add products to your BigCommerce store, you need to navigate Products > Add from the dashboard.
There are three basic information you need to pay attention to: Product Name, Default Price, and Weight. We recommend adding an image, description, and any identifiers (e.g. SKU, UPC, MPN, etc.), although this information is optional.
Then click Save to keep these changes.
The amount of information you need to fill in is quite large, but there is a pretty good way that you can take advantage of that is to import Products through CSV files.
This strategy is ideal for businesses or individuals who already have a storefront or at least a list of products from a POS system. We have many shopping cart migration tools that have utilities available for you to transfer your information from one platform to another as a CSV file.
Orders
All you need to do is click on the Orders item and go through three simple steps including Customer Information, Item, and Shipping.
Customers
To add customers to your BigCommerce store, you need to select Customers > Add. On the Add Customer page, BigCommerce asks you to fill out the Customer Details form to specify the account details. Note that you can assign that customer to a specific customer group and manage it in the Customer Groups section.
Optimize your BigCommerce store
Set up SEO BigCommerce
Search Engine Optimization or SEO helps Internet shoppers discover your products on search engines like Google and Bing faster.
Don't forget to set up SEO to make it easier for your customers to find your store
With BigCommerce SEO, you can optimize page titles, descriptions, and keywords for content pages, category pages, product pages, blog posts, and brands.
There are several popular Shopify and BigCommerce SEO Apps likes SEOKart and FavSEO which are recommended for your BigCommerce and Shopify Stores.
In your BigCommerce dashboard, navigate to Store Setup > Store Settings > Website. Scroll down and you will see the Search Engine Optimization section. Provide the required information and click Save when you're done.
Next, select the URL Structure section and continue to optimize your product URLs, category URLs, and website URLs.
Using BigCommerce analytics
Analytical reports on products and customer trends are very important for business. And fortunately BigCommerce gives you the tools to do just that.
Click on the Analytics in the dashboard section to help you better understand this functionality.
Set up BigCommerce on multiple channels
You can add up to six social media links to your online store. To do this, go back to the Storefront option on your control panel and navigate to Social Media Links. Next, add your specific social media links to each network profile that you want to promote on your store. Then drag and drop your links into the Live on Your Storefront section of the screen.
Not just Walmart, Facebook, Amazon, or eBay, you will benefit greatly from Google Ads and Buy buttons. The Buy Button feature helps your customers buy products right from your blog, email, and social media posts.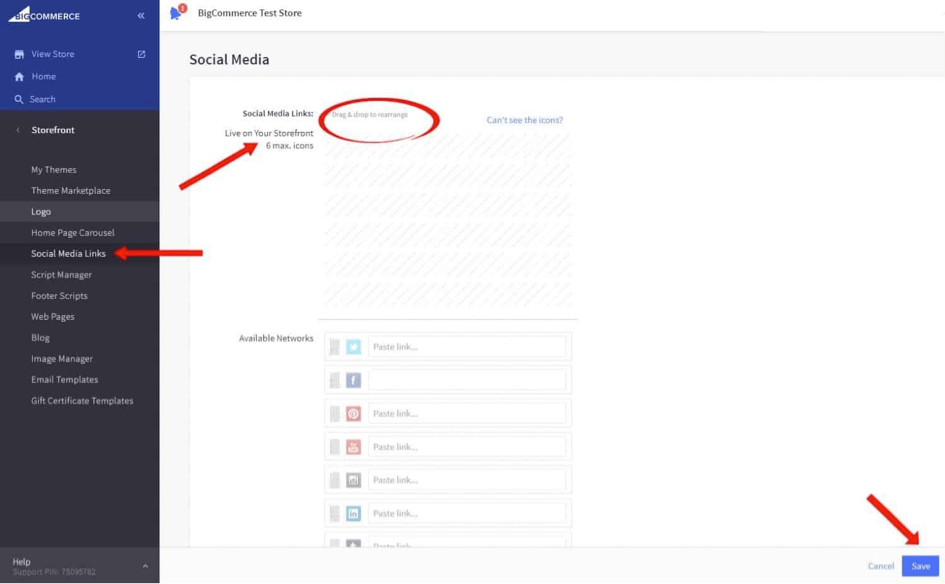 Link other social networks to your store
Step 5: Preview and run your store
Your results are slowly showing up. However, there will still be certain shortcomings that need to be reviewed to discover.
To preview your store in action, navigate back to your dashboard and click View Store to see the entire BigCommerce store. My advice is that you help to look along to get the most unbiased reviews as you may be so familiar with your site that you may have a hard time spotting errors.
After completing all the steps outlined here, you are ready to open your store. However, before your site goes live, you'll need to upgrade your trial to activate your store. Access this from your main dashboard by clicking the Upgrade Your Trial button.
There are four plans available through BigCommerce. Features for BigCommerce plans vary, so before making a purchasing decision, be sure to review the details BigCommerce offers about each plan.
You can always start with the Standard Plan and upgrade as your needs evolve. That's how most online store owners launch new websites. Read our BigCommerce review for more details on pricing and features.
Conclusion
Complete the above steps one by one and you will find setting up your BigCommerce shop easy. The items that need to be built are all added by the BigCommerce team with detailed instructions for users to complete. Whether you're just starting in business or looking for a new direction for your business, BigCommerce is a definite must-try!
Thanks for reading!